Get all the benefits of hospitalization in a home treatment if it is covered under your health insurance plan.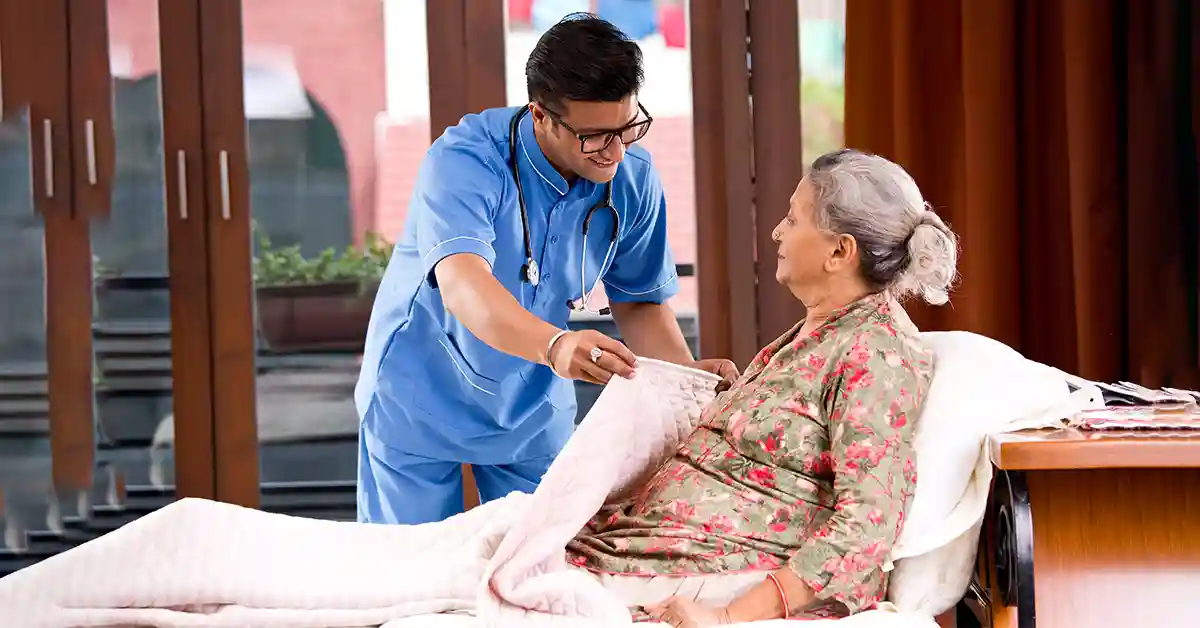 One thing that pandemic has made everyone realize is the importance of health insurance. The attitude of the public towards health insurance is changing because everyone now understands how crucial it is to be prepared for any medical situation. A good health insurance cover can get you the best health care and medical treatment in case of a medical emergency. It is the financial cushion that protects you against unexpected medical expenses. But you don't always need to be hospitalized to be eligible to claim health insurance. You can get all the benefits of hospitalization in a home treatment if it is covered under your health insurance plan.
Let us find out more about home treatment and how to claim it in health insurance.
What is Home Treatment?
Also, known as domiciliary treatment or care, it is a situation where an insured requires hospitalization but is treated at home. This happens because of any of the following reasons:
The patient is so unwell that he can't leave home or shift to a hospital.
There is a shortage of beds or other resources due to which the hospital is unable to accommodate the patient.
The doctor advises the patient to get treatment at home instead of at a hospital.
For any of the 3 reasons, you can claim your health insurance for home treatment under "domiciliary" treatment, if the same is covered in your health insurance plan.
What is Covered Under Home Treatment?
All the expenses incurred towards the home treatment are covered by the health insurance plan. The coverage is different for different insurers. You can check with your insurer what coverage is offered under your health insurance. The expenses that are covered mostly under domiciliary care include
Expenses of domiciliary treatment like doctor's consultation and home visit fees, cost of medicines, diagnostic tests, nursing support, cost of medical equipment, etc.
Pre and post-hospitalization expenses.
Chronic care expenses such as check-ups, daycare, frequent consultations, etc.
However, note that home treatment does not cover self-treatment at home without a doctor's prescription. Some policies offer built-in coverage for home treatment and some offer it as an add-on health insurance cover.
For an easy and quick claim settlement, inform your health insurer in advance and provide all the required medical documents. You will be required to provide a doctor's prescription for domiciliary hospitalization, all medical tests, medical bills, and all other expenses bills.
Here's Why You Should Get Health Insurance That Covers Home Treatment:
The insured doesn't need to be hospitalized to avail of the benefits of health insurance. He can still claim health insurance while being treated at home at his convenience.
Like cashless hospitalization, many insurers provide cashless home treatments as well. For cashless home care, original invoices with a doctor's prescription are required.
Home treatment is cheaper than hospitalization, as room rent, cost of food, travelling and service taxes are saved. Therefore it is beneficial for both insured as well as the insurer.
Important Points to Remember Before Choosing Home Treatment:
The coverage or sum insured for home treatment is a part of the overall coverage of your health insurance policy.
Check the inclusions and exclusions for home treatment in your health insurance policy.
Check the waiting period for specific medical conditions and diseases under home treatment.
Check whether the treatment you are going to take is covered under the domiciliary care of your health insurance plan.
Check the premium for additional home treatment coverage in your home insurance plan.
Check with your doctor whether home treatment is advisable for you or not.
Check the requirements of all the documents and prescriptions by your insurer.
Check the claim process and claim settlement time.
Ensure that you have access to proper medical equipment from a GST registered agency and trained professionals to attend to you at home.
During the pandemic, there have been many cases where covid treatment was given at home due to a shortage of beds. In such a scenario getting home treatment covered under your health insurance is beneficial for domiciliary hospitalization. Remember to check with your doctor whether to opt for home treatment or not before you buy health insurance.
Also Read: List of Diseases that are Covered by Star Health Insurance