Unable to find the best car insurance rates? What's going wrong? Read ahead to find out how you can get the best car insurance rates without any hassles.
How often do you purchase a product and then crib about having made the wrong choice, because you didn't 'comparatively' get it at a better price?
And, if it was something that could impact you financially in the long run, then you may end up disappointed.
Don't let the same happen to you when it comes to car insurance!
Check out the silliest of blunders that prevent you from getting the best car insurance rates best car insurance rates. (which functionally goes into price and coverage).
You Don't Wish to Accept Change
(Or simply put: You don't want to move on to another insurer)
Your insurance company may be the best according to you. But if you don't look out for better options, you could be inviting trouble. Why would you want to invest in a plan – which isn't suitable for you – and undergo a financial loss later?
Just like my friend Hari, who recently told me how unhappy he was with the insurance deal that was forced upon by his car dealer. When I asked him why he didn't want to switch to another insurer, here is what he replied:
"I agree with you! But, you see I am a little superstitious. Ever since I took this particular car insurance plan with XYZ insurer, my car has never met with an accident. It has proved to be quite lucky for me. So, I don't mind continuing to pay high premium."
I couldn't help but burst out laughing. And then gave him a piece of my mind.
You Haven't Asked for Discounts
When you go street-shopping or head to the market to buy groceries, you bargain, right? You negotiate for a discount. We all do!
So returning to my friend Hari, here's what he had to say:
Me: Did you at least ask for discounts?
Hari: What discounts? What are you talking about?
Me: I hope you do know that insurance companies offer multiple discounts, apart from No Claim Bonus. It helps you get a better deal and prevents burning a hole in your pocket.
Hari: Are you crazy? They are an insurance company for heaven's sake, not a vegetable vendor to ask discounts from? It's so embarrassing!
Me: Shaking my head in disbelief I see another reason why you failed to get the [best car insurance rates. Hold on! Let me explain!
How to fix this?
When you are investing your hard-earned money on car insurance, you will realize something. There are plenty of opportunities to reduce the cost without compromising on the value of the plan.
You can earn as much as 50% of the NCB for claim free years. Other factors include Membership of the Automobile Associations of India. You can also install anti-theft devices approved by Automobile Research Association of India (ARAI). These are few other ways that can fetch you a discount on your own damage premium.
Also Read: 5 Simple Steps to Make a Convincing Car Theft Claim
Your Policy Has Lapsed
It's been quite some time since your car insurance policy lapsed. But, there are still no signs of renewal happening anytime soon. Why? "Just because I am feeling too lazy"
OR
"Oh, I will renew it later."
OR
"I can drive on like this for some time."
And loads of other pointless excuses to dilly-dally your responsibility.
Then you suddenly wake up from your slumber. And you hear that your friend was caught and heavily penalized by the traffic policeman for driving an uninsured car.
In a frenzy, you pick up the first insurance plan you could lay your hands on or the one your agent could hard-sell to you. Or worse, you just bought a plan that your neighbor recommended.
Ideally, this should not be your story!
How to fix this?
Keep a track of your policy expiry date. You can set a reminder in your cell phone. Few days before the policy is due to lapse, contact your insurer about its renewal. It's true that you have the grace period of 90 days as your savior. But, you shouldn't wait for it.
Your insurance company may charge you higher premium or (in some cases) even reject your proposal if at all your policy has lapsed.
Ensuring that you get your policy renewed before it lapses is the smartest way to get the best car insurance rates.
You Haven't Made an Informed Choice with the Right Research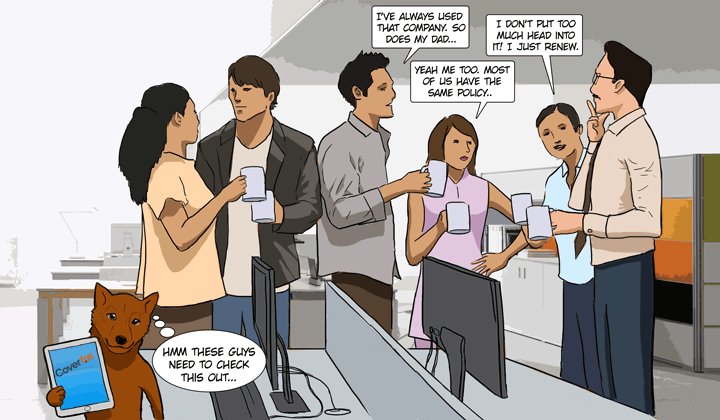 Don't blindly follow the crowd. You don't have to opt a particular insurer just because your relatives or colleagues have been using one for years.
Tons of people are going to offer tons of advice. But, do you know who the smartest person is? It's YOU!
Yet, you may have failed to realize your potential and wouldn't have researched well enough to make an informed choice.
How to fix this?
Research is the key, folks, Research!
Also, analyze your personal needs, budget, compare the best car insurance rates and driving history. Tailor it accordingly. You have to understand what amenities and coverage you need.
Are you aiming solely at a cheap insurance? Have you weighed the options and made sure that the premium justifies the coverage you are getting? Is customer service listed under the primary requisites?
Here is the mandatory checklist:
Background check of the insurer - Once a thorough list of the companies is prepared, some investigative work is done to check its financial standing. Also the customer reviews & Claim Settlement Ratio has to be seen.

Network garages - Check the list of network garages in your area. Figure out if they provide services to repair your car model. With cashless garages, the insurer settles the repair costs directly with the garage without involving you.

Add-ons - While considering the comprehensive car insurance, you must consider additional benefits. This comes an extra premium for an exhaustive coverage. Features like Zero Depreciation Cover, No Claim Bonus Protector, Engine Protector, etc. prove to be beneficial in a long run. But first understand if your car requires them.

Deductible levels - Just in a bid to save money on the premium, opting for a higher deductible is not the right choice. You need to understand that higher deductible will mean shelling out higher amount from your pocket at the time of claim. So only if you're a confident driver, you should opt for a high voluntary deductible.
Remember!
If you check out an effective and user-friendly insurance broking portal like Coverfox.com, you'd see a wide number of quotes. And that too from a range of insurers. After getting unbiased advice, you get to choose a comprehensive insurance plan at your own discretion. (Yup! No pushy salesmen here).
Trust me when I say this – getting hold of the best car insurance rates is easy, only if you want it to be!
Make the right decisions and drive gleefully knowing that you managed to get the best car insurance rates. :)